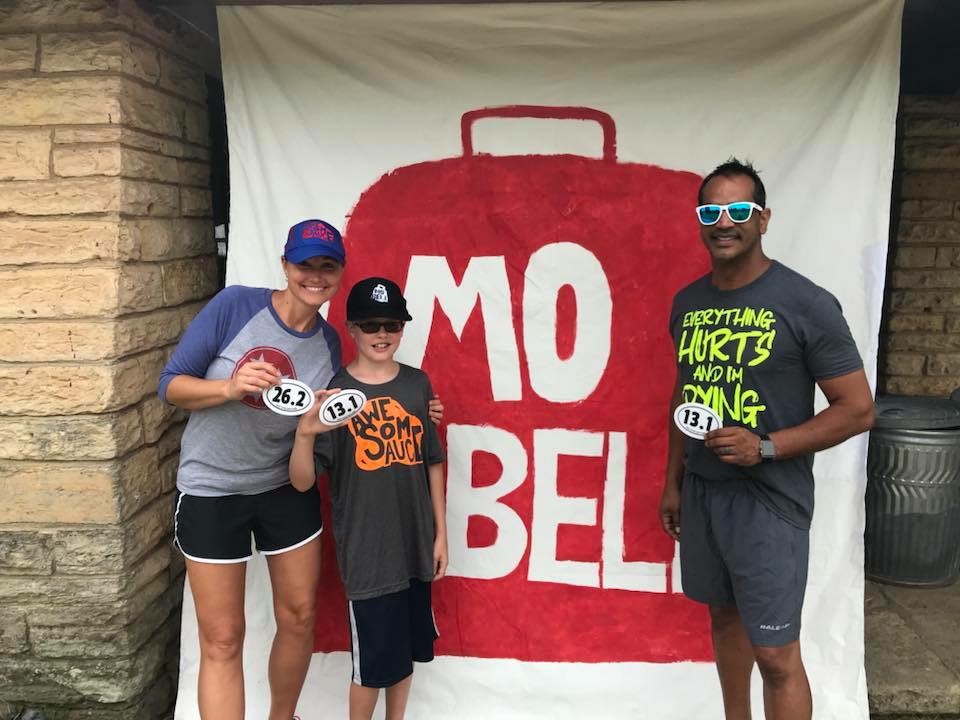 Part camp out, part race, all fun!
Location:  Montgomery Bell State Park, 1020 Jackson Hill Rd, Burns, TN 37029
Montgomery Bell State Park is about 30 miles west of Nashville.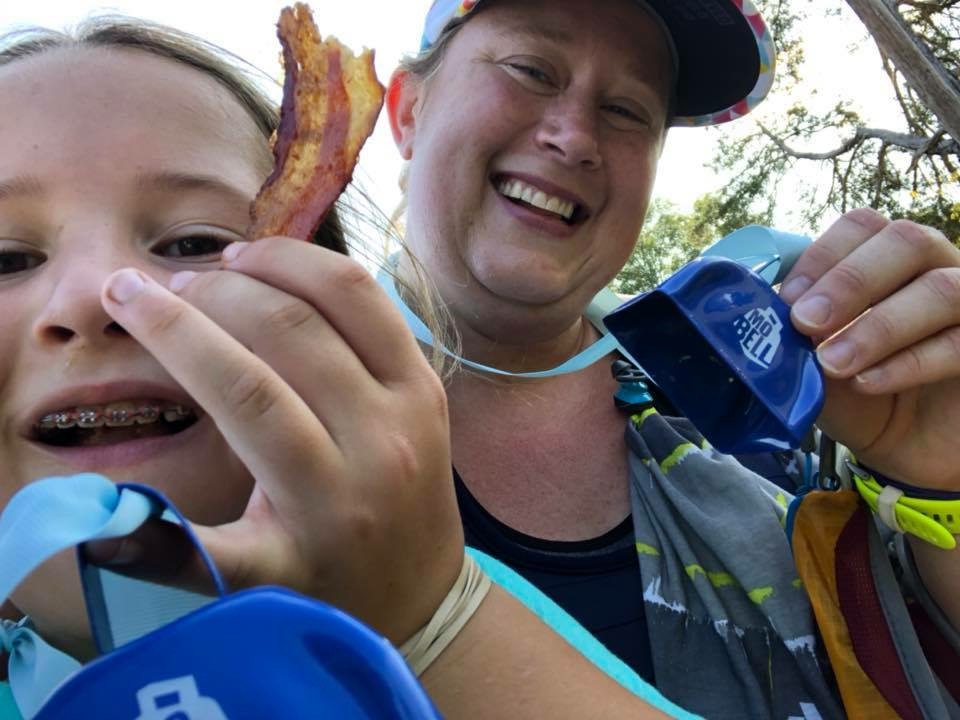 Races available at this event:
100 Miles – 8/3/19  7am
100K – 8/3/19  7am
50 Miles – 8/3/19  7am
50K – 8/3/19  7am
Marathon – 8/3/19  7am, 8/3/19 5pm, 8/4/19  7am
Half Marathon – 8/3/18  7am, 8/3/19  5pm, 8/4/19  7am
10K – 8/3/19  7am, 8/3/19 5pm, 8/4/19  7am
5K – 8/3/19  7am, 8/3/19 5pm, 8/4/19  7am
One mile fun run – 8/3/19  12pm
Each start time is considered a separate race, so feel free to run at the day/time that works for you, or run multiple races!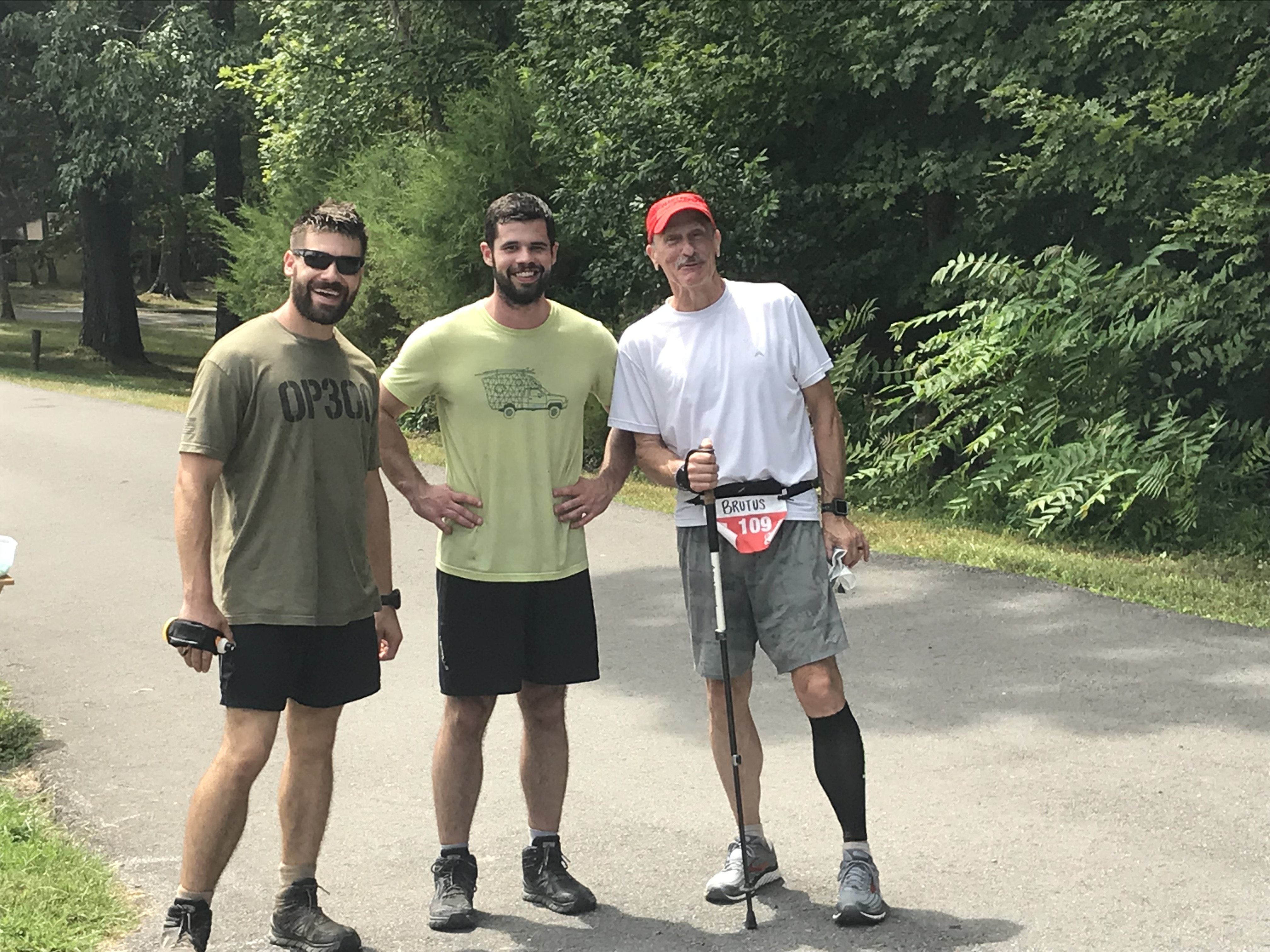 There is a 55-hour(ish) time limit on ALL distances for the races that start on Saturday morning. 36-hour(ish) time limit on the races that start on Sunday morning. Yes, that means if you start a 5K, 10K, half marathon, or marathon on Saturday morning, you have 55 hours to finish it! You're not reading that wrong. We'll be out supporting our 100 milers all weekend long, so it's just as easy to support the shorter distances too!
If you are still out on the course after time is up, as long as you are making forward progress, we'll stay out with you. We have to be checked out of all the buildings in the group camp by noon on Monday, but we have been given permission to hang out to wait for finishers.
Your registration fee includes a pair of pajama pants for all distances half marathon and above (everyone else will receive a cotton t-shirt), a cowbell finisher's medal for all distances (plus a belt buckle for 100 milers!) all the food you can eat from Friday night to Monday brunch, and a rocking good time!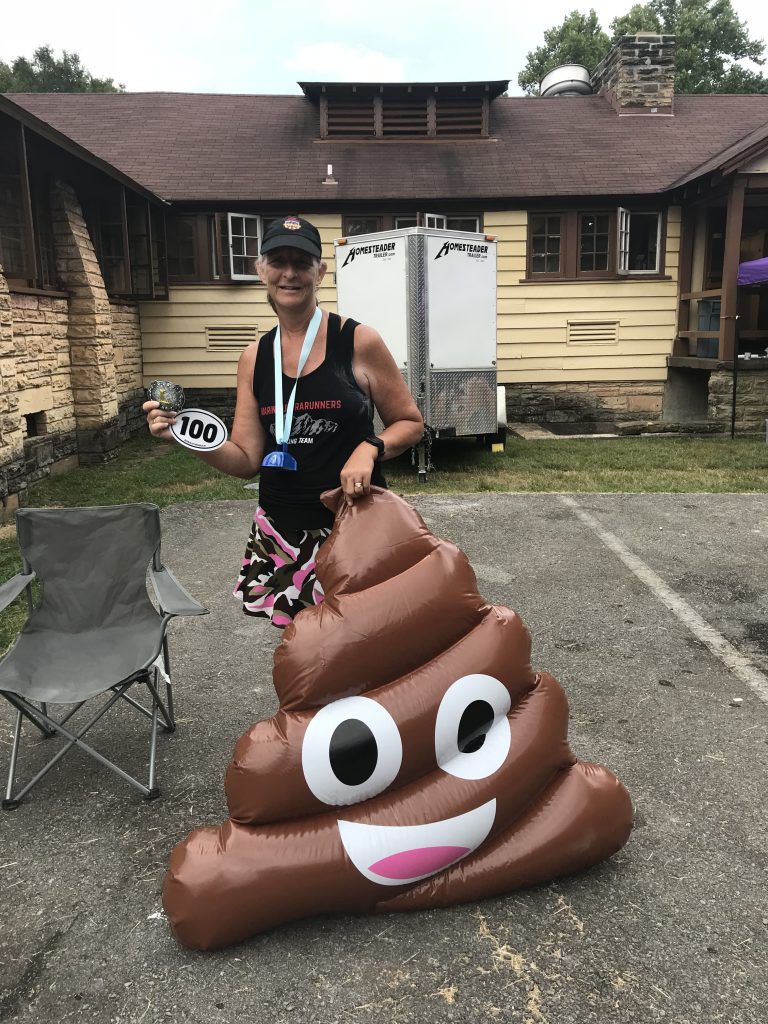 IMPORTANT:  We joke that we put on very serious races. The truth is, these races are the OPPOSITE of serious. This is not about competition. We want to see every person cross the finish line and we want to see them do it with a smile on their face. We don't care if you stop mid-race to take a nap or if you run 100 miles in under 24 hours. We just want you to have fun. We don't give out awards for the fastest person. This is about camaraderie and a fun family friendly weekend and crushing goals, not about beating someone else. It's you vs. you.
---
COURSE
This race is unique in that there are two different loop courses, and you can mix and match the courses throughout the weekend. As long as the mileage adds up to the distance you're setting out to cover, you're good to go!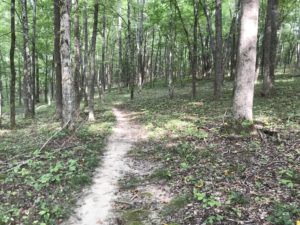 The trail course is a 3 mile loop using the Montgomery Bell State Park trail system. The trail is technical – there are roots and rocks – and hilly in some spots. This ain't flat and fast! There are no water crossings. Most of the course is shaded by tall trees.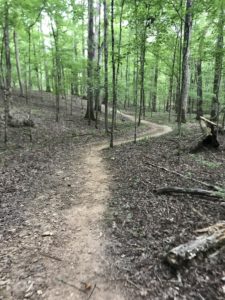 You may run the loop in either direction but you must go completely around the loop before changing directions (what we refer to as "washing machine style.")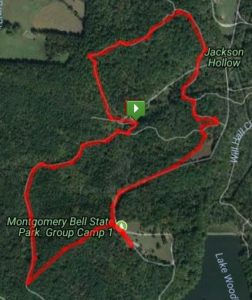 Lowest elevation is 665 feet, highest is 785 feet.

We also have an all-road one mile loop through the group camp. It is also not flat and fast. It meanders around each of the cabin loops. The one mile fun run will be held on the roads of the group camp.
You're free to choose one course or the other, or mix and match them to get to your mileage goal.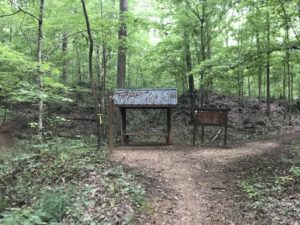 Both courses begin and end by the main aid station, which means you'll visit us multiple times, so your crew does not need to travel to help take care of you, though they are welcome to if they'd like. The main aid station will have cooked food, tables and tables of snacks and Gu and drinks and ice and first aid, and cowbells, of course.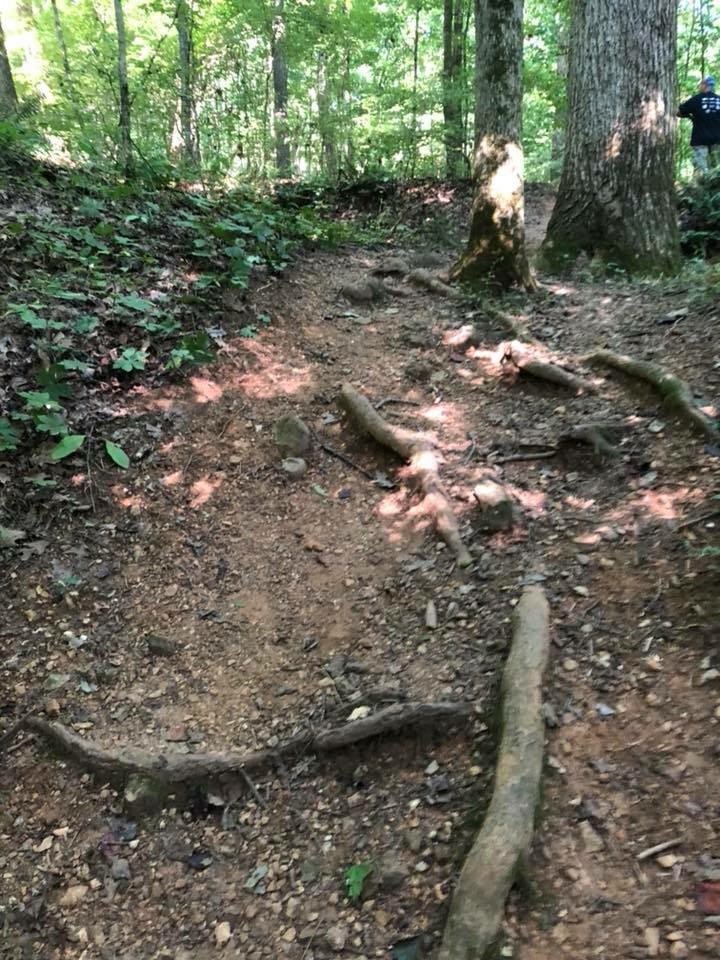 This is not and will not be a certified course. The distance has been measured multiple times and is correct. If your GPS reads long – we won't charge you extra. If your GPS reads short, you're welcome to keep running. Remember that every GPS watch is different and many are not 100% accurate, particularly in the woods. We've done the course while wearing three different brands of GPS watch and running two phone apps, and they all come up with a different number. That's why we measure from the ground, not the sky. So please don't get upset if your GPS is giving you a different number than 3 miles. We wouldn't short you and we wouldn't make you run any further than you have to!
---
COUNTING MILEAGE
Because we have a road course and a trail course, and we let you mix and match them as you'd like, we can't use chip timing equipment to count your laps. All runners covering 50 miles or more will be using a container counting system. There will be coffee mugs full of wooden balls at the end of the road loop, and sticks at the end of the trail loop. As you come in from a lap, you will pull a ball or stick from the containers, and put them into a coffee mug that will be labeled with your name and bib number. As the day progresses, we will periodically count the balls and sticks in your mug and convert them to mileage, which will be recorded on paper and also posted in front of each person's mug. The balls and sticks will be emptied and reused, so you'll see your mug occasionally go empty, but your mileage is just fine. We video tape the counting in case there are any disputes.
Anyone running 50K or shorter distances, we'll be using the rubber band method. Different colored rubber bands for each course which you can wear on your arm, attach to a carabiner, put around your water bottle, etc. You also have the option of marking your bib for laps with a Sharpie. Out and back distances of 0.1 and 0.2 miles will be marked with signs to get that last little bit for 5K, 10K, half marathon, and marathon distances, and a one mile out-and-back distance will be marked on the trail for 50Kers who want to only use the trail.
Sounds like the honor system, doesn't it? It is. However, we do have some video cameras out on both courses that will be recording you, so if there are any disputes, we'll review tapes. Please don't make us do that; it's tedious for us. If you want to cheat a course to get a medal, and you choose our race because there aren't a million timing mats to catch you doing it, it says more about you than it does about our race.
---
AID STATION
If you've ever been to one of our events, you know we spare no expense at our aid stations. Since this race includes ultramarathon distance, our aid station is gigantic!
The aid station will be located at the group camp dining hall. You will pass by the aid station multiple times throughout the race. This means you'll always know what's going to be there, and if you want something specific, we have some time to cook it for you!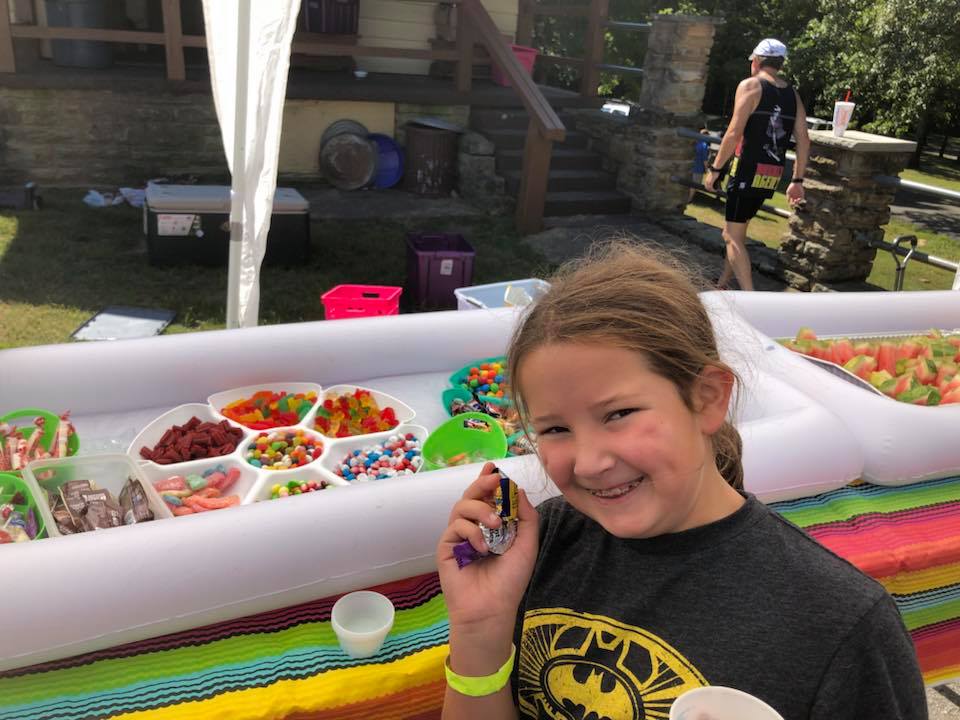 FLUIDS
The aid stations will have throughout the day and night:  water, Gatorade, ginger ale, Coke, Mountain Dew, other sodas, coffee, hot chocolate, and chocolate milk (as well as non-dairy chocolate milk.) We'll also have plenty of ice and popsicles and non-dairy fruit smoothies!
FOOD
Let's be honest:  we think ultramarathons are really just eating contests with some running thrown in. We also know that the food is what is going to keep you going during this race, so we will be prepared!
The following food will be available:  oatmeal, bagels, potatoes, bananas, hard boiled eggs, a variety of candy bars, chocolate candy, gummy candy, hard candy, oranges, apples, grapes, fig newtons, various cookies, peanut butter and jelly sandwiches, cold cut sandwiches, peanut butter crackers, trail mix, potato chips (in a variety of flavors), pretzels, raisins, dried fruit, tortilla wraps (hummus and kalamata olive wraps, bean and cheese burrito wraps, peanut butter and banana wraps), muffins, cupcakes, Pop Tarts, brownies, pudding cups, and of course energy gels. This is not an exhaustive list, and our race director will likely add more than this to the aid station tables.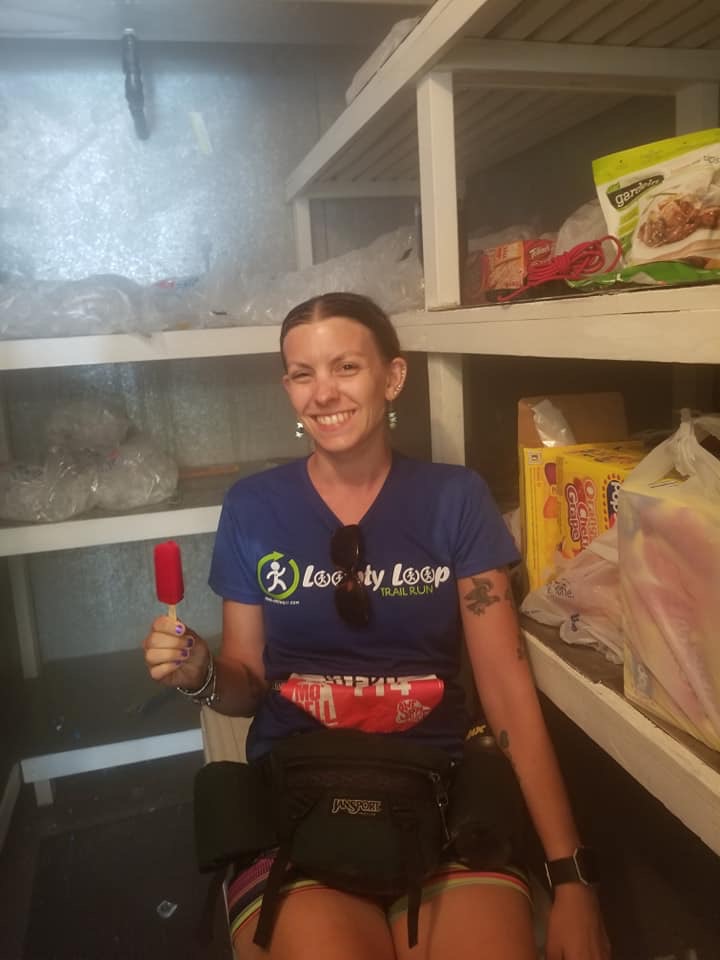 After noon, you can expect to see the addition of quesadillas, soups (chicken noodle, vegetable, lentil, chicken and vegetable broth), pizza, hamburgers, hot dogs, grilled cheese sandwiches.
If you've ever finished a race and gotten nothing but a green banana and maybe some cold pizza, you're in for a real treat! The aid station food is also your post-race buffet, and all runners going half marathon or further, your registration fee covers all you can eat, whether you're running a half marathon or 100 miles. Wristbands that cover food for spectators, crew, and runners going less than the half marathon distance are available for purchase.
The aid station will also have a variety of medical aid products, including, but not limited to, Tums, Immodium-AD, Vaseline, salt tablets, band aids, medical tape, feminine products, baby wipes, and sunscreen. Please bring your own painkillers!
Crews, pacers, and spectators may purchase wristbands for access to the aid station food and pre- and post-race food. Wristbands give access to all of the runner food including pre-race pasta dinner on Friday night, food all day on Saturday, food all day on Sunday, and on Monday until noon.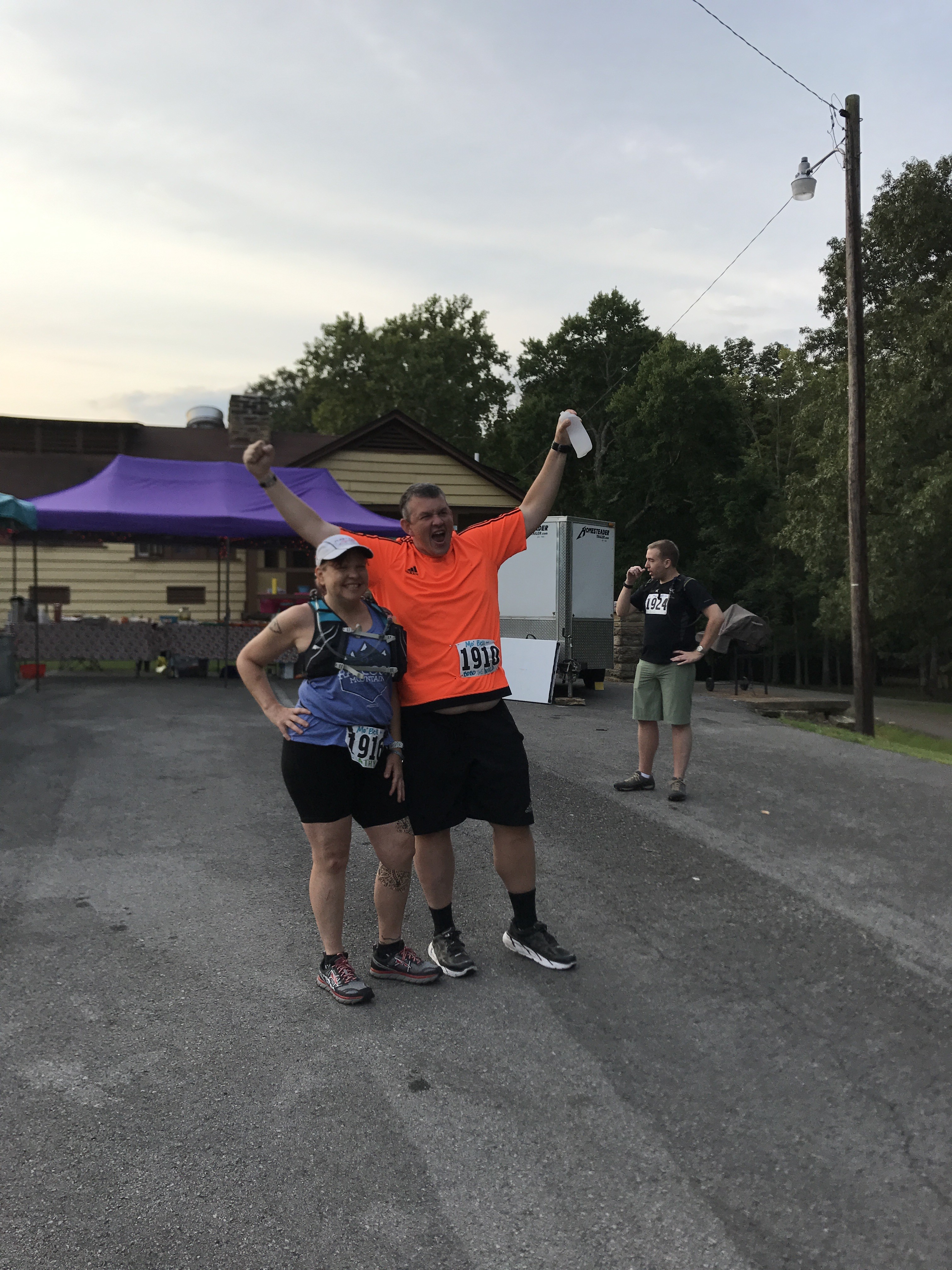 ---
RACE WEEKEND SCHEDULE
Friday Night – 8/2/19
Packet pickup is from 5-8pm at the Group Camp One Dining Hall. If you have reserved a bed in a cabin, you may check in as early as 4pm. Please do not come any earlier than that unless you are coming to help set up. You do NOT have to pick up your packet on Friday night.
Dinner will be served at the Dining Hall beginning at 6pm on Friday, August 2nd. Pasta with sauce (meat sauce and vegetarian sauces), bread, salad, and dessert will be available. Water, Gatorade, and sweet tea will be available to drink.
The pre-race dinner is included for all race participants and paid pacers or spectators with wristbands. Please pre-register for dinner when you register for the race so we can plan to have enough food! Running out of food is a no-no in our book, but if you show up with your extended family, and all of Aunt Edna's neighbors, and your best friend and her softball team, without giving us fair warning, well, we might just run out.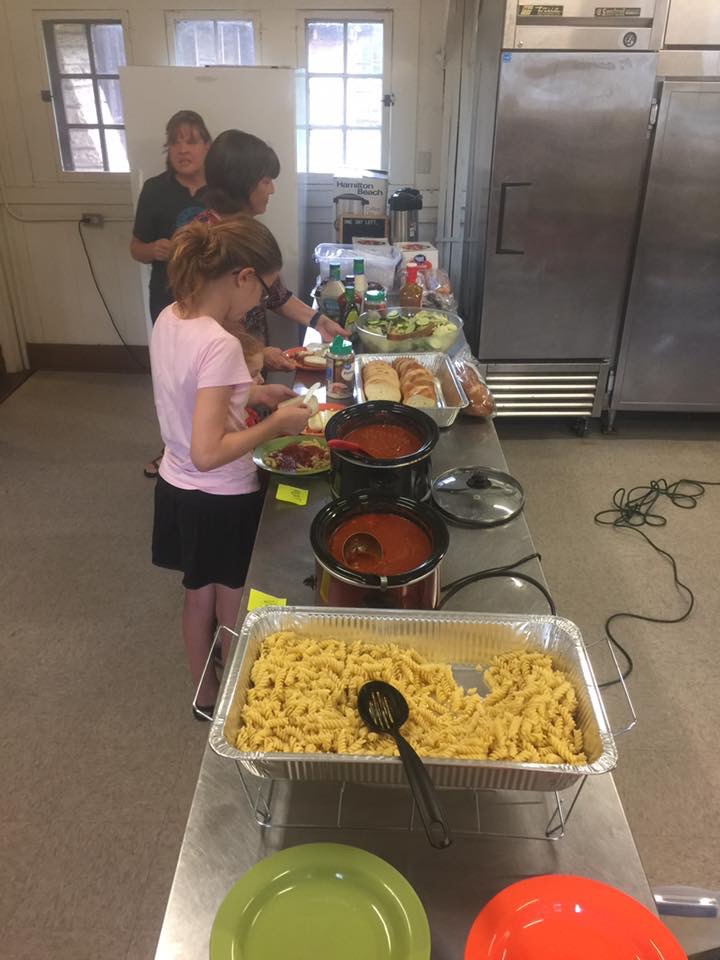 Saturday – 8/3/19
Packet pickup begins at 5am at the Dining Hall. From that moment on, packets are always available for pickup. If you are running on Sunday, you can wait until Sunday to pick up your packet if you'd like.
If the lights are on in the Dining Hall, you are welcome to come in. In this case, if the lights are on, it usually means somebody is home. We'll have coffee going and breakfast foods – muffins, Pop Tarts, granola bars, fruit, oatmeal – out throughout the morning. Please don't come into the kitchen unless you are a volunteer who is cooking.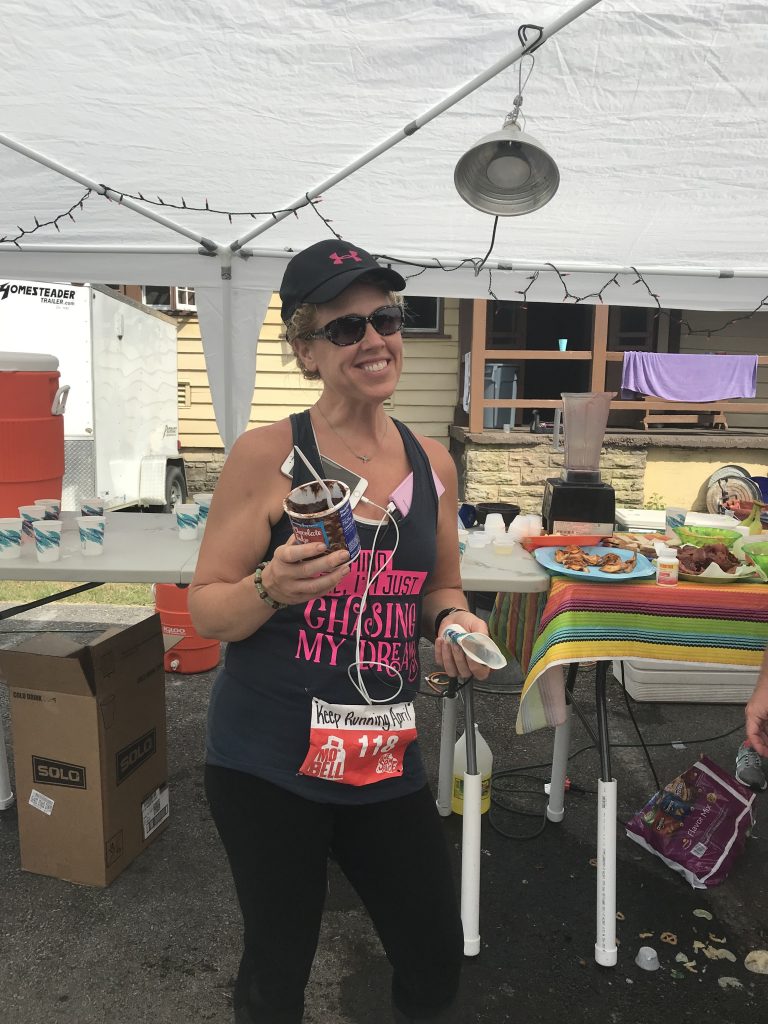 Runners of any distance are invited to hang out all day at the group camp after finishing your race. You can cheer for your fellow runners as they finish. Runners going half marathon distance or further, as well as anyone with a wristband, are entitled to food all day long.
Lunch is served at about 12pm, and will include burgers and hot dogs (including veggie versions), potato chips, and desserts. If you are still running, other options will be available on demand.
Dinner is served at about 6pm, and will have a variety of options.
A note about food: Please give our kitchen crew some grace when it comes to these times, because they are responsible for feeding a LOT of people, and there aren't very many people who volunteer to work in the kitchen. Anyone actively running in the races will have first priority for food.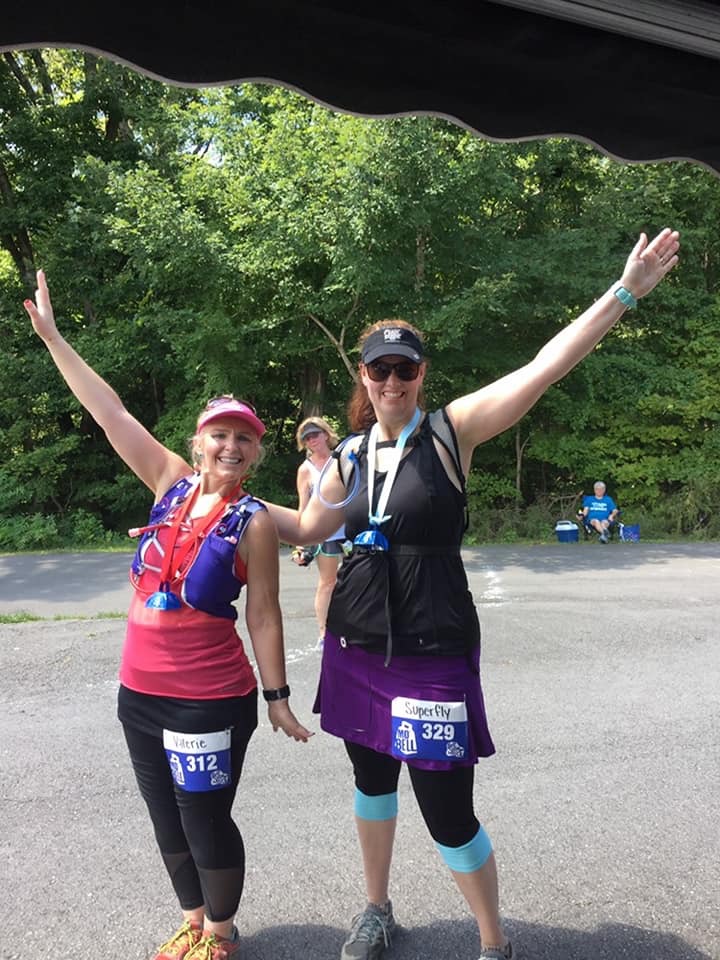 Sunday – 8/4/19
Waffles and the same breakfast foods that we have on Saturday will be available at the Dining Hall on Sunday at 8am. We'll keep the food going until the last runner finishes!
Food will be available at the group camp dining hall all weekend. If the lights are on, you're welcome to come in and grab something to eat! We ask that runners and spectators stay out of the kitchen area for safety reasons.
---
Time Limit
The time limit for the Saturday morning start races is 55-ish hours. Sunday morning runners have roughly 36 hours to complete the course. As long as you are upright and moving forward, we won't tell you to stop. Walkers are welcome! We are notoriously back of the pack friendly and that's not going to change. We love slowpokes! We even have our own club-within-a-club for those of us who like to take our time.
Drop Bags
Drop bags will be allowed along the race course and inside the dining hall. We'll have most of what you'll need on hand, but bring things like rain jackets, head lamps, favorite flavors of Gu, change of clothes, pain killers etc. You're welcome to bring a chair to set up with your belongings if you'd like, put up a pop up canopy, a hammock, a bouncy house, the sky is the limit.
Please label all drop bags with your last name and your bib number.
Any drop bags or other items left at the group camp when the last person finishes will be discarded.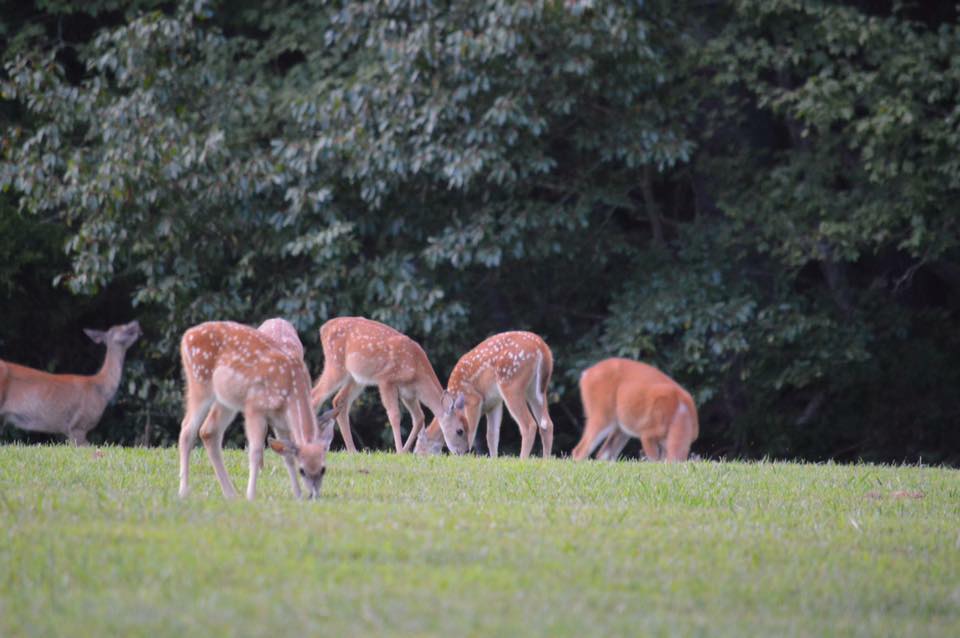 Medical
There will be no medical checks before, during, or after the race. We will have volunteers available who are trained in CPR and basic first aid. Each participant is responsible for knowing his or her own physical limitations.
If, in the opinion of the race director or assistant race directors, your physical or mental condition has endangered your safety and/or the safety of others, you will be withdrawn from the race.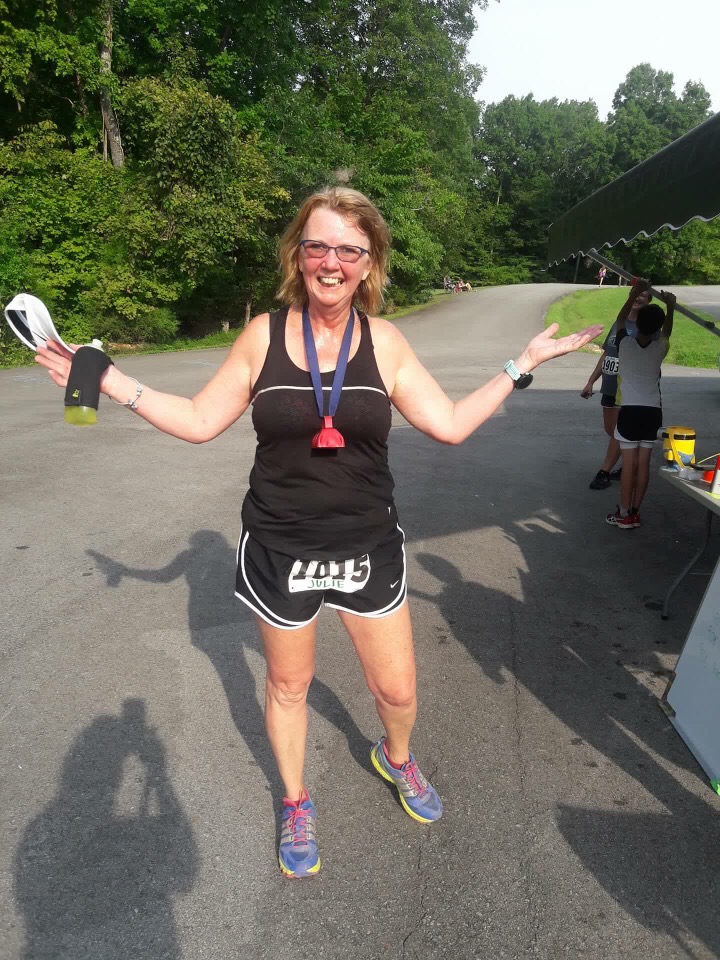 Crews and Pacers
Crews are welcome to assist you.
Pacers are allowed after you reach the 30 mile mark. Pacers are required to wear a pacer bib (which can be purchased during registration or at packet pickup) and sign a waiver, which gives them access to food and drink at the aid stations. Muling is allowed.
Crew members and pacers may NOT use bicycles to accompany or crew runners on the course at any time.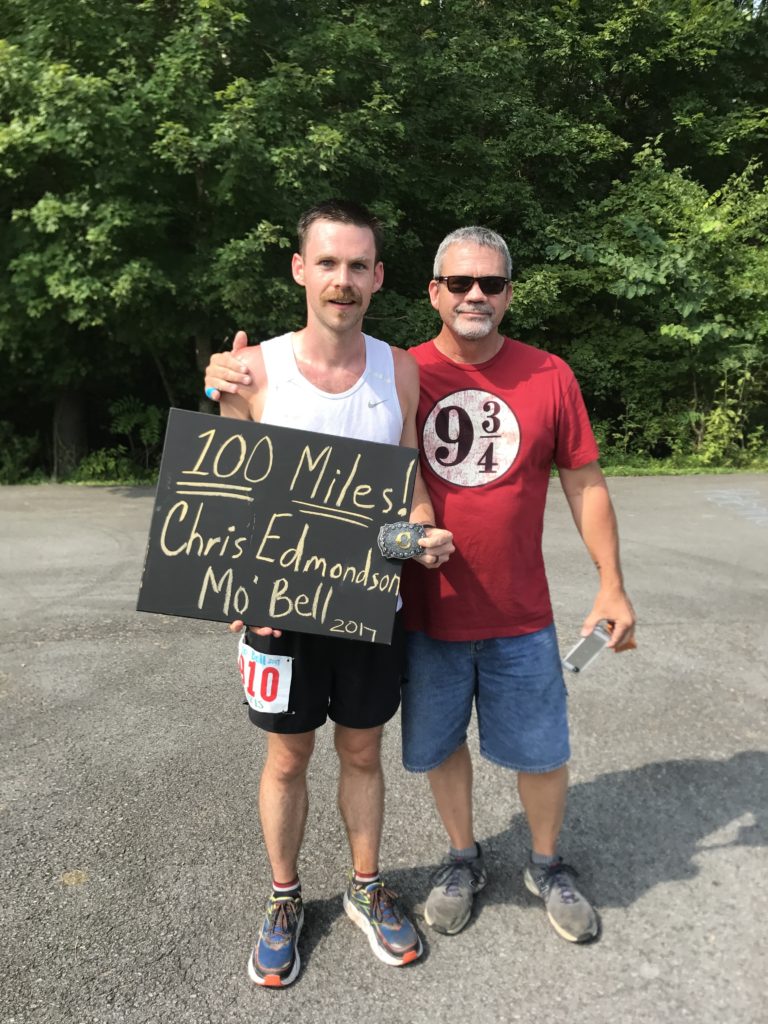 Timing
You are responsible for lap counting; see instructions above. You must check in with the timing table to receive a medal and a finish time. Runners who do not check in with the timing table when they finish will not receive a finish time.
You may drop down to a shorter distance mid-race and receive a finish time, or you may move up to a longer distance if you're feeling good, but you MUST inform the main timing table staff at the start/finish. If you move up to a longer distance, you will be required to pay the difference before you will receive your medal and inclusion in the results.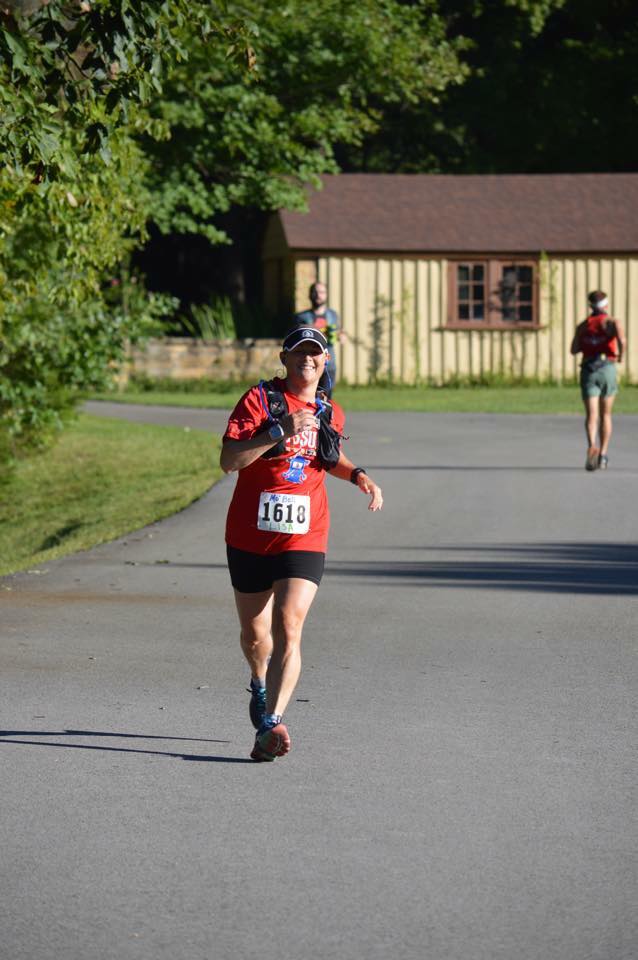 ---
TRAVEL INFORMATION
LOCATION
Montgomery Bell State Park is located at 1020 Jackson Hill Rd, Burns, TN 37029. Burns is about 30 miles west of Nashville. Once inside the park, follow the signs to Group Camp 1.
Runners traveling via air – Nashville International Airport provides nonstop service to over 50 locations.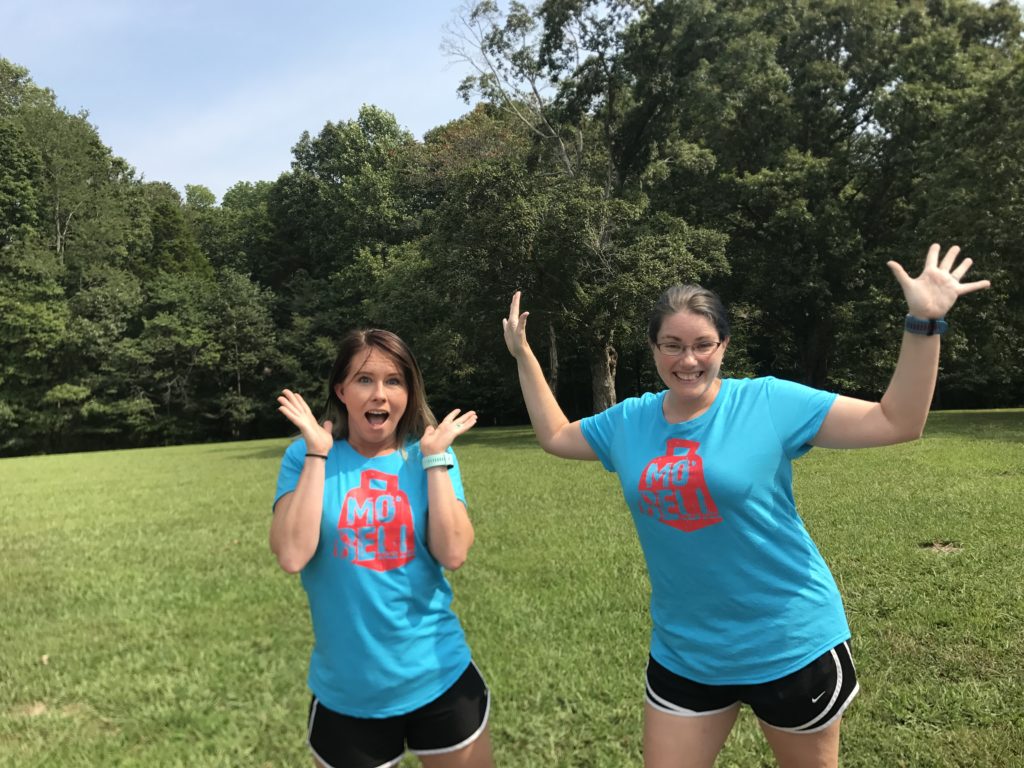 LODGING
Rustic, open air cabins within the group camp are available to runners, crew, and spectators. There are twin-sized beds in each cabin, and most cabins sleep 4. Cabins are available to reserve during registration; there are a limited number of cabins available, so we suggest you book early. There will be cabins available for singles; these cabins will be booked one bed at a time and will not be co-ed.
The cabins are open air and have enough electricity to charge a cell phone or run a small fan. Please do NOT try to plug in anything more than that, or you may knock out power to the entire camp. There will be a phone charging station at the dining hall. Multiple bath houses are available throughout the group camp. Showers are available for all runners; bring all the shower supplies you need, including a towel!
Tent space and RV parking (no hookups) are available as well.
Prefer more privacy, but still want to be nearby? We recommend the Inn at Montgomery Bell State Park, the campground at Montgomery Bell State Park, or the cabins at Montgomery Bell State Park. There are a number of hotels nearby in Dickson, TN.
---
FREQUENTLY ASKED QUESTIONS
Please read all of these before you email us!
Can I use trekking poles?
Yes. Don't stab anyone with them.
Can I decorate my cabin?
Yes. You cannot use staples, nails, tacks, or anything that makes a hole in the wood.
Can I push my child in a stroller?
Yes, on the paved one-mile course only. You will not be able to take the stroller onto the trail course, because the only way that will end is with a trip to the emergency room.
What will the weather be like?
It's summer in Tennessee. It will probably be hot at some point. It might rain. At night, it gets cool.
---
Register for the race as a runner or volunteer HERE.
Questions? Email us at runawesomesauce@gmail.com