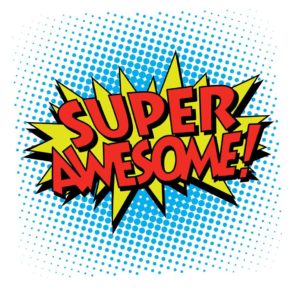 Wednesday, April 4, 2018: Sikeston, Missouri
Thursday, April 5, 2018: Jonesboro, Arkansas
Friday, April 6, 2018: Union City, Tennessee
Saturday, April 7, 2018: Paducah, Kentucky
Sunday, April 8, 2018: Metropolis, Illinois Moved to Paducah, Kentucky due to weather
Whether you are faster than a speeding bullet or if time limits are your kryptonite, there's something for everyone at the inaugural Super Awesome race series!
Take on any distance from one mile to ultramarathon; be a hero and run more than one day! Our eight hour time limit for all distances means everyone is welcome, including walkers and kids. And our unique multi-lap course with laps that are no longer than three miles means you'll always be with all of your friends, who will become family, because this week is kind of like superhero summer camp. Our Super Aid Station will be fully stocked with unlimited food and drink, everything from Gu and candy to potato chips and cookies.
The most customizable races you'll ever be part of, you can run one, two, or all five days; you can run all of the same distances, or mix and match your distances.
The important info:
– All courses are paved park paths and are mostly flat or have rolling hills. (We have been told the Arkansas course will be paved by the time we get there, but at the moment, it is still unpaved crushed limestone/chat. Plan for both possibilities.)
– All races begin at 7am local time with the exception of Union City, Tennessee, which will start at 8am. All races are in the Central Time Zone. Race day packet pickup starts one hour before the races begin.
– Your best bet for round-trip flights are St. Louis, Memphis, or Nashville, all three within a 3 hour drive of the first and last day.
– We don't mind if you mix and match distances, and you can even change distances mid-race!
– You'll also receive your choice of a plastic cup or water bottle to use at our waterin' hole. It keeps the trash down, and helps you figure out which drink is yours. We'll keep it full all day!
– Rather than give you an ill-fitting shirt in a color you hate, we've priced these races low so you can add on things like tank tops, tech shirts, and other fun stuff. Or, add nothing, we won't judge! We do give out swag based on the number of days you run, but none of that swag is a shirt.
– All distances receive a medal. How else will people know you went for a run? Complete all five days and receive a special Awesomesauce medal.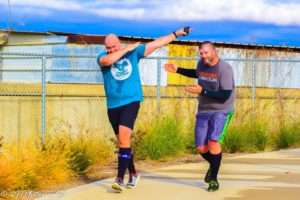 – Strollers are permitted. Pets are not. Have you ever seen a dog attack a bowl of banana pudding? We have. It's not cute.
– Eight hour time limit means walkers, run-walkers, runners, skippers, and crawlers are welcome. There's no running police here! We're more concerned about you crossing the finish line, not the amount of time it takes you to get there, so there's no worries about not "being fast."
– Free photos will be posted on Facebook at the end of the series. Results will be posted on RunSignup.
– Most locations will have one aid station zone, so you'll always know exactly what to expect, and you'll have a convenient place to leave a drop bag that you can access throughout the day.
Food at the aid station includes (but is not limited to):  energy gels in a variety of brands and flavors, fruit, potato chips, pretzels, pickles, cookies, candy (chocolate candy and sugary stuff too), crackers, peanut butter and jelly sandwiches, and whatever else we decide looks good at the grocery store!
Drinks available include water, Gatorade, Coke, Mountain Dew, coffee, and chocolate milk (non-dairy chocolate milk available as  well.) If you have a particular mix or drink that you prefer, please bring it along and we'll be happy to refill your personal cup all day long with it, or keep it on ice for you.
Also available in the aid station zone:  Bandages, athletic tape, Vaseline, salt tablets, Ibuprofen, Tylenol, Naproxen, bug spray, sunscreen, feminine products, ponytail holders, and other things that will help us help you get to the finish line. There is also a recovery zone with things like foam rollers, stick massagers, and BioFreeze.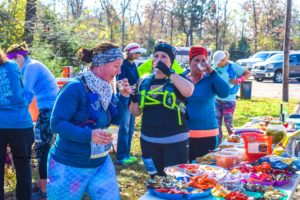 – Packet pickup and kickoff group dinner at Lambert's Cafe on Tuesday, April 3 from 6pm-8pm. Packet pickup is also available one hour prior to each race start. No need to print your confirmation or show us your ID. Yes, a friend or family member may pick up your packet.
– Virtual runners will be mailed all of their swag the week after to the race series. Virtual runners are treated just like in-person runners in terms of swag.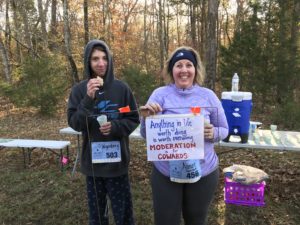 – The most important thing to remember is that our focus is on FUN. Only a handful of people ever have a real chance of winning any race. Our crew caters to the 99% – the ones who will never win but who still deserve an amazing race experience. There are no prizes for first place or for age groups. If you think you're signing up for an uber-competitive, super-speedy race, we'd suggest you pass on ours and look for something else. But if you like hanging out with fun people, if you like giving or receiving high fives, if you think loud music and cowbells are essential, if you are more worried about having a good time vs. winning, if you like being spoiled, if you like fun surprises, if you want to be with people who truly enjoy your company and want to see you succeed, we hope you join us!
Register for the Missouri race here.
Register for the Arkansas race here.
Register for the Tennessee race here.
Register for the Kentucky race here.
Register for the Kentucky Day 2 race here.  The Illinois race has been postponed to August due to flooding making the course unusable. We will run day 5 in Paducah, Kentucky at the same location as day 4.
If you're planning to run all five days, you can pay at this link, then we will email you a code to use on the registration pages, which will cut down on your online processing fees! If you'd like to mix and match distances or run multiple days but not all five, this link will help you out!
---
SCHEDULE
Tuesday, April 3, 2018
Pre-race group dinner and packet pickup at (the original!) Lambert's Cafe (2301 E. Malone, Sikeston, Missouri) from 6pm – 8pm. Lambert's does not accept credit cards, so plan accordingly. Catch a hot roll thrown from across the room, load up on those carbs, and get to know your new running buddies!
Wednesday, April 4, 2018
Super Awesome Series Day One
Sikeston Recreational Complex
501 Campanella Drive
Sikeston, Missouri
Distance to Day Two:  approximately 119 miles/2 hours of driving
Thursday, April 5, 2018
Super Awesome Series Day Two
Craighead Forest Park – Pavilion One
4910 S Culberhouse Rd
Jonesboro, Arkansas
Distance to Day Three:  approximately 139 miles/2 hours and 25 minutes of driving
Friday, April 6, 2018
Super Awesome Series Day Three
Veterans Park
Union City, Tennessee
GPS Coordinates: 36.447380, -89.048554
Distance to Day Four:  approximately 88 miles/1 hour and 40 minutes of driving
Saturday, April 7, 2018
Super Awesome Series Day Four
Bob Noble Park, Pavilion 16
2801 Park Avenue
Paducah, Kentucky
Sunday, April 8, 2018
Super Awesome Series Finale
Fort Massac State Park
1308 East 5th St.
Metropolis, Illinois – Home of SUPERMAN
Moved to Bob Noble Park in Paducah, Kentucky
---
TRAVEL INFORMATION
Best bet for flights: St. Louis, Missouri or Nashville, Tennessee
Recommended hotels in Sikeston:
Holiday Inn Express
3 miles to race location
Best Western Plus
3 miles to race location
Pear Tree Inn
2 miles to race location
Drury Inn
3 miles to race location
Recommended hotels in Jonesboro:
Hilton Garden Inn
6 miles to race location
Fairfield Inn and Suites
6.5 miles to race location
Comfort Suites
6.5 miles to race location
Recommended hotels in Union City:
Quality Inn
4.5 miles to race location
Country Hearth Inn
4 miles to race location
Recommended hotels in Paducah:
Auburn Place
2.5 miles to Paducah race location
9 miles to Metropolis race location
LaQuinta Inn and Suites
3 miles to Paducah race location
9 miles to Metropolis race location
Hampton Inn
2.7 miles to Paducah race location
9 miles to Metropolis race location
Drury Inn and Suites
2.4 miles to Paducah race location
8.8 miles to Metropolis race location
Holiday Inn Express
2.5 miles to Paducah race location
9 miles to Metropolis race location